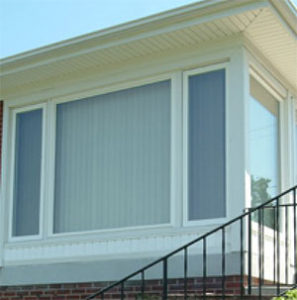 Picture Windows
---
Picture windows are ideal for unobstructed scenic views. Picture replacement windows maximize views and bring in the most natural available light, making them popular for living rooms, dining rooms and master bedrooms and are available in a variety of shapes, sizes and colors.
Picture windows are fixed windows, which mean they can't be opened or closed and are mainly used to frame a beautiful view.
Because picture windows are fixed, there are no mechanical parts to break making them a cost effective and affordable window replacement option. In addition, picture windows offer the homeowners energy efficiency! During the winter months, the heat from the sun helps warm the room and using the natural source of heat reduces heating costs. Our professional and experienced Knoxville replacement window installers provide proper window installation guaranteeing maximum energy efficiency.
If you are looking for an energy efficient home improvement that will increase your property value and energy savings, call our Knoxville replacement window team today to learn more about our top quality, awning replacement windows.
Grandview Patio & Sunrooms provides high-quality and affordable replacement windows in the Knoxville, Tennessee area. Our experienced replacement window Knoxville installers can guide you through choices that best fit your purpose, budget, and taste. If you need help with your window replacement, call the experienced contractors at Grandview Patio & Sunrooms today!