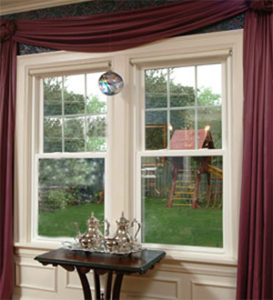 Ovation Replacement Windows
---
Seaway's Ovation replacement windows use the most advanced materials available today guaranteeing maximized performance, strength, and security against harsh weather or intrusion.
Seaway's Ovation Windows use the most advanced materials available today. Coupled with state of-the-art Uni-Tech construction and rigorous quality control, the Ovation window is rated at an LC-45 to withstand even the harshest of weather.
Seaway's Ovations window has an exceptionally rigid frame with steel reinforcement in the meeting rail for extreme strength and resistance to bending. The Ovation window is the best choice on the market to accommodate your home's largest window openings.
Ovation replacement windows provide unsurpassed strength and security while virtually eliminating air infiltration and increasing strength and security. Seaway's exclusive Uni-Tilt Latch & Lock System is an all-in-one system that incorporates bolt action tilt latches into a stream-lined lock for both simplicity of operation and supreme security.
If you are looking for an energy efficient home improvement that will increase your property value and energy savings, call our Knoxville replacement windows team today to learn more about our top quality, ovation replacement windows.
Grandview Patio & Sunrooms provides high-quality and affordable replacement windows in the Knoxville, Tennessee area. Our experienced replacement window Knoxville installers can guide you through choices that best fit your purpose, budget, and taste. If you need help with your window replacement, call the experienced contractors at Grandview Patio & Sunrooms today!