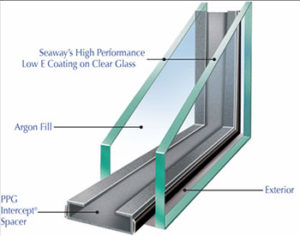 Energy Efficient Windows
---
Reduce Your Energy Costs and Pay Back Your Investment Quickly with Energy Efficient windows from Scenic View.
Today, energy efficiency is a key aspect for most home improvement projects. At Scenic View are goal is to make sure you receive the right high quality, high performance energy efficient window.
All Seaway windows with low E glass meet and surpass energy efficient criteria and are ENERGY STAR qualified in all 50 states. We also offer a variety of high performance glass coating packages with varying SHGC ratings to suit your needs, based on your climate.
In addition, our window's high performance Low E is our standard Low E, and have a double thickness of silver and a hard outer layer of titanium to provide extraordinary performance in varying climates
We use advanced Intercept™ technology as a standard to create insulated glass with a warm edge around the perimeter. The edge of the glass is typically the coldest spot on the window and can be prone to condensation. Intercept spacers, instead, use a thin steel U channel that reduces conductivity and keeps the edge of the glass warm.
If you are looking for an energy efficient home improvement that will increase your property value and energy savings, call our Knoxville replacement window team today to learn more about our top quality, energy efficient windows.
Grandview Patio & Sunrooms provides high-quality and affordable replacement windows in the Knoxville, Tennessee area. Our experienced replacement window Knoxville installers can guide you through choices that best fit your purpose, budget, and taste. If you need help with your window replacement, call the experienced contractors at Grandview Patio & Sunrooms today!