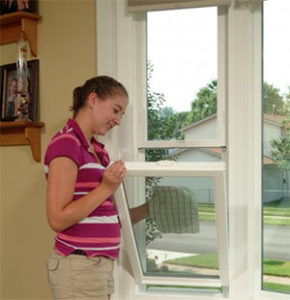 Double Hung Windows
---
The most popular window model are the Double Hung Windows. Homeowners love them because they are skillfully engineered to make your rooms more comfortable and energy efficient. These windows have two sashes which slide vertically to operate, allowing the double hung replacement windows to be tilted in for easy cleaning.
Our Double hung replacement windows are custom-made and our Knoxville double hung replacement window installers are all expertly trained in proper installation. That's right, No gaps & no air escaping!
This style of vinyl replacement window will help decrease energy costs because of improved home insulation.
Adding replacement windows to your home is one of the smartest upgrades you can choose for your house. Double Hung Replacement windows offer ease of cleaning, operating, ventilation and visibility and most importantly beauty. You can rely on the expertise of our Knoxville replacement window contractors for quality installation and excellent customer service.
If you are looking for energy efficient, home improvement project that will increase your property value and energy savings, call our Knoxville replacement windows team today to learn more about our top quality, double hung replacement windows.
Grandview Patio & Sunrooms provides high-quality and affordable replacement windows in the Knoxville, Tennessee area. Our experienced replacement window Knoxville installers can guide you through choices that best fit your purpose, budget, and taste. If you need help with your window replacement, call the experienced contractors at Grandview Patio & Sunrooms today!