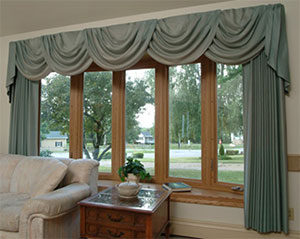 Bow Windows
---
Make a grand statement with bow windows! Bow windows dramatically change the look of your home making it more in tune with your own personal style. Bow replacement windows will transform your room, opening it up to allow more scenic beauty and sunlight into your home. More than a window, a bow window will become the focal point in any room.
Bow windows are designed to create space by projecting beyond the exterior wall of a home, providing a wider view of the outside.
In addition, bow replacement windows are very energy efficient. Because a bay window allows in light from multiple angles, the room receives additional radiant heat requiring less heat to warm the room during the winter. This will help you use less energy and reduce your heating bills. Bow windows also minimize air leakage and improve thermal performance. Our professional and experienced Knoxville replacement window installers provide proper window installation guaranteeing maximum energy efficiency.
If you are looking for an energy efficient home improvement that will increase your property value and energy savings, call our Knoxville replacement window team today to learn more about our top quality, bow replacement windows.
Grandview Patio & Sunrooms provides high-quality and affordable replacement windows in the Knoxville, Tennessee area. Our experienced replacement window Knoxville installers can guide you through choices that best fit your purpose, budget, and taste. If you need help with your window replacement, call the experienced contractors at Grandview Patio & Sunrooms today!