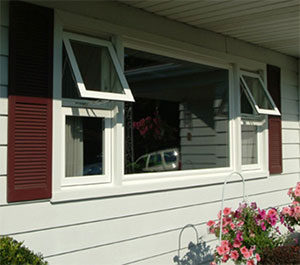 Awning Windows
---
Awning windows are like traditional casement windows, but instead of pivoting on mounted side hinges, awning windows pivot on hinges mounted at the top. Even during raining weather, the glass protects the opening like an awning promoting and enabling ventilation.
Awning windows offer great ventilation and can be placed higher in walls than many other types of windows. When placed high, awning windows can provide increased natural lighting and ventilation, without compromising privacy.
Even when open during a rainstorm, awning windows can protect your home against moisture allowing for nearly 100 percent of viable ventilation, without the threat of water seeping into the home. Awning windows also offer a superior seal preventing air leakage.
Our professional and experienced Knoxville replacement window installers provide proper window installation guaranteeing maximum energy efficiency.
If you are looking for an energy efficient home improvement that will increase your property value and energy savings, call our Knoxville replacement window team today to learn more about our top quality, awning replacement windows.
Grandview Patio & Sunrooms provides high-quality and affordable replacement windows in the Knoxville, Tennessee area. Our experienced replacement window Knoxville installers can guide you through choices that best fit your purpose, budget, and taste. If you need help with your window replacement, call the experienced contractors at Grandview Patio & Sunrooms today!