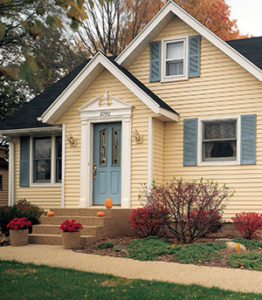 CraneBoard Vinyl Siding
---
Grandview Patio & Sunrooms offers only the best in Knoxville vinyl siding! Grandview Patio & Sunrooms offers a complete collection of CraneBoard vinyl siding designed to give the real look of cedar without all the maintenance, worries and hassles.
Board & Batten
Adding the charm and dimension of rustic cedargrain CraneBoard® Board & Batten comes in 22 available colors. It's smooth, locked edges, designed for seamless appearance, replicates real cedar and lies flat to provide endless beauty. Our vinyl siding is extremely durable because it is 240% more impact resistant than fiber cement and is wind resistant up to 150 mph! And the best part is that it is completely maintenance free! No Painting, no scraping and it comes with the life of the home limited warranty.
Cranboard®7
CraneBoard® 7 vinyl siding gives beauty, durability and strength to any home! Our 7-inch plank gives your home a stately presence with an R-Value up to 2.5!
The authentic, straight-face design with hand-milled cedargrain beauty is available in a selection of 22 expressive colors and its smooth interlocking edges keep seams tight for a continuous look.
Our resilient vinyl siding is engineered with Smart Core™ Insulation allowing it breathe and keep moisture out. In addition, it's also 240% more impact resistant than fiber cement and wind resistant up to 200 mph. Talk about strength, durability and beauty in one!
CraneBoard® 6
CraneBoard® gives your home a classic, crisp-looking exterior with CraneBoard® 6. The triple-width, insulated span bridges give a flawless exterior appearance and the milled cedargrain texture gives your house a solid, authentic presence.
If you are looking for an energy efficient home improvement that will increase your property value and energy savings, call our Knoxville vinyl siding team today to learn more about our top quality vinyl siding products!
Grandview Patio & Sunrooms provides high-quality and affordable replacement windows in the Knoxville, Tennessee area. Our experienced vinyl siding Knoxville installers can guide you through choices that best fit your purpose, budget, and taste. If you need help with your vinyl siding replacement, call the experienced contractors at Grandview Patio & Sunrooms today!