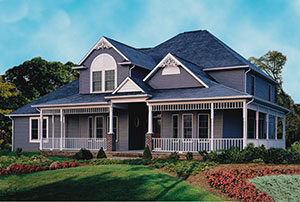 Charleston Beaded Vinyl Siding
---
The Charleston Beaded vinyl siding collection provides eternal beauty with a maintenance-free vinyl clapboard that won't chip, flake or peel. It is available in two distinct styles — contemporary beaded and a traditional beaded and features two finishes – wood grain and smooth – which is available in 14 base colors.
The Charleston Beaded Collection has an advanced locking system and nail hem that simplifies installation, strengthens fit and adds stability bringing two architectural classics to life and offers a outstanding benefits that deliver.
If you're looking for siding that is resilient, low maintenance, and looks beautiful, Charleston Beaded Collection siding is the ideal choice. Charleston Beaded Collection will enhance your home's appearance today — and for years to come. The Charleston Beaded Collection never needs paint or stain and unlike real wood siding, it won't crack, peel, flake or rot. Revolutionary technology like Mastic's exclusive Hang-Tough™ Technology maximizes the panel's weatherability and delivers additional protection for outside elements.
The best part about the Charleston Beaded collection is its Lifetime Warranty! Backed by the Mastic V.I.P Limited Lifetime Warranty, Mastic has been a trusted industry leader for more than 50 years giving you the peace of mind you need!