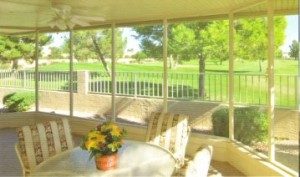 Screened Rooms
---
Screened rooms provide the perfect outdoor oasis for entertaining friends and neighbors, spending time with loved ones, and even enjoying a little bit of alone time. Screened rooms can be the most economical room you ever build adding beauty, value and security to your home.
A Knoxville screened room is a versatile addition to any home. If you have an area around your house that could be converted into valuable outdoor living space, you should consider converting it to a screened room. Our custom designed screened rooms are constructed by our skilled craftsman who will design your room to work with your existing patio structure.
Screened rooms do much more than just increases the value of home. With a screened living space you can enjoy all the wonder and festivity of a warm summer day without the constant bother of troublesome bugs. Screened rooms can help distinguish your home from the ordinary, by creating an eye-catching focal point for your home. In addition, they are a great financial investment for the future and can be done at a minimal cost.
Our experienced, polite and professional Knoxville screened room contractors will build a customized screened room perfectly into your deck or patio the very first time.
Grandview Patio & Sunrooms provides design and installation of screened rooms for the Knoxville, Tennessee area. Our experienced screened room Knoxville installers can guide you through choices that best fit your purpose, budget, and taste. If you need help with your screened room, call the experienced contractors at Grandview Patio & Sunrooms today!